The pandemic has without a doubt been a real challenge for any consumer business. However, the health crisis may not have been the deciding factor in the declining stored-based electronics and home appliances retail segment as e-commerce services' share has been continuously on the

rise

.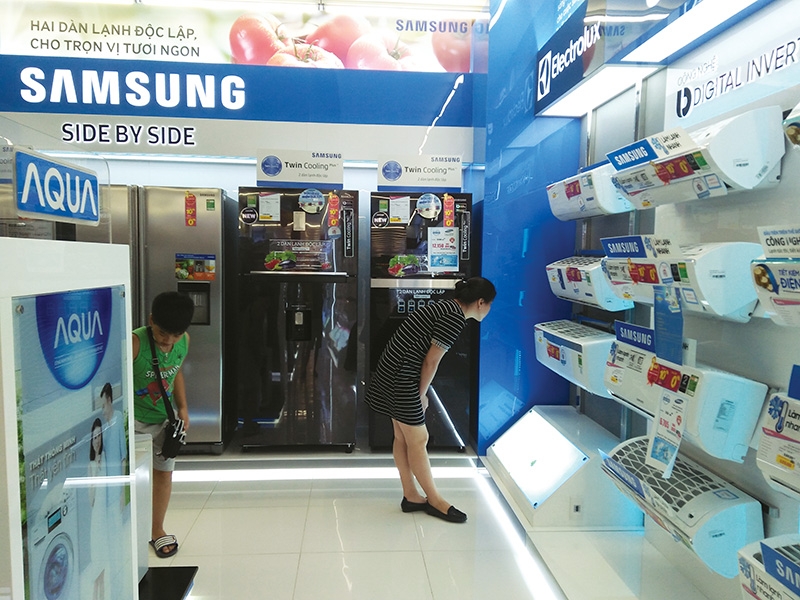 People are increasingly buying goods online instead of at physical stores, leaving showrooms with unwanted stock.
Many electronics and appliance retail stores have remained empty especially after the Lunar New Year as customers were not eagerly shopping. Given the low customer traffic, some stores merely displayed old samples without offering new ones, while others were struggling to survive.
Some institutes and experts have been making the pandemic and social distancing responsible for the low sales in brick-and-mortar shops, such as global market researcher Euromonitor, which pointed out that under the impact of COVID-19, electronics and appliance retailers registered a notably lower sales growth in 2020.
Dang Thanh Phong, public relations manager of Mobile World Investment Corporation (MWG) told VIR, "The consumer electronics and appliance retail industry in 2021 may face more hardship due to the pandemic which led to a large decrease of consumers' income and slowed down the economy."
However, Ralf Matthaes, managing director of Infocus Mekong Research claimed that the main challenge has actually not been the pandemic. He stated that though consumers have curtailed spending on consumer electronics in 2020, since January of this year, consumer electronics have started to show a rebound in sales with a mild yet positive 5 per cent increase.
"The main issue is that consumers are shopping more online for these goods, as they are able to save money and benefit from many promotional benefits. Hence, the major challenge is coming from e-commerce sites such as Lazada, Tiki, and Shopee," Matthaes added.
In addition to Matthaes' judgement, a look at the growth rate of the retail market shows that retail sales have been decreasing since 2015.
Other statistics by Euromonitor showed that from 2014 to 2018 the share of brick-and-mortar retailers dropped from 81.6 to 77 per cent. Meanwhile, the share of internet retailing grew from 17.8 to 22.1 per cent, while other sources remained largely stable.
In the shortlist of top electronics and appliance specialist retailers, MWG, FPT Corporation, and Pico JSC are the leading names, with respective shares of 27, 5.2, and 4 per cent. Following these are Cao Phong Co., Ltd. and Nguyen Kim Trading JSC with market shares of 3.8 and 3.1 per cent, respectively.
Last year, MWG opened 300 Dien May Xanh supermini outlets during the pandemic. Towards the end of 2021, the company is looking to open another 700 stores. Phong of MWG said that the company is following its roadmap to reach 60 per cent market share by 2022.
"Dien May Xanh will not spend much on pushing consumption, but instead focus on serving customers the best choices for their needs and budgets. MWG plans to expand its network to more remote areas that large and mini Dien May Xanh outlets cannot reach by opening Dien May Xanh supermini stores,"Matthaes added.
In the past five years, Vietnam's electronics and appliance retail market has seen plenty of big names disappearing, including Tran Anh, Vien Thong A, Topcare, and Viet Long.
In 2017, MWG bought Tran Anh Digital World to expand its scale beyond the north. The combination of Dien May Xanh and Tran Anh generated 30 per cent of market share at the time of the merger.
Meanwhile, in 2020 Vingroup JSC exited the channel and the entire Vietnamese consumer electronics market to concentrate on technology and industrial sectors. The group acquired Vien Thong A electronics supermarket, renaming it VinPro. However, the market chain officially dissolved only a year after its launch.
Thai conglomerate Central Group, through its subsidiary, acquired the Vietnamese electronics retailer Nguyen Kim early in 2020 in a deal worth nearly $115 million, representing the group's move to consolidate its presence in the Vietnamese electronics and appliance retail market.
Players in the electronics and appliance sector are advised by experts to diversify their strategies and adopt omnichannel models if they wish to lead the market. FPT and MWG tried to push e-commerce sales to mitigate the effects of the national lockdowns and social distancing campaigns throughout the pandemic. Their online sales have recorded growth in 2020, which helped to compensate for the declining sales at brick-and-mortar outlets.
These chains are also investing in their websites to compete with e-commerce platforms. However, the competition can be tough as both players need to cut down their prices and offer numerous promotions to snag online shoppers.
Nguyen Quang Hoa, chairman of Thien Nam Hoa JSC, said that his company is scaling down its premises and only retains some key stores. The company will focus on boosting its online sales, which are expected to contribute 60-70 per cent to its sales.
According to Matthaes from Infocus Mekong, there is still pent up demand for consumer electronics in Vietnam. However the retail sales model must change for these companies to survive. "The key challenge will be to find the right central locations and convert store offers into easy-to-buy products that can be fitted for homes via virtual product mapping, and then be delivered conveniently," Matthaes explained.
By Truc Van, "Dreary times persisting for appliance retailers", available at: https://www.vir.com.vn/dreary-times-persisting-for-appliance-retailers-83434.html (accessed April 5, 2021)