The recent merger between Gojek and Tokopedia to create technology powerhouse GoTo Group is expected to heat up Vietnam's digital platform market.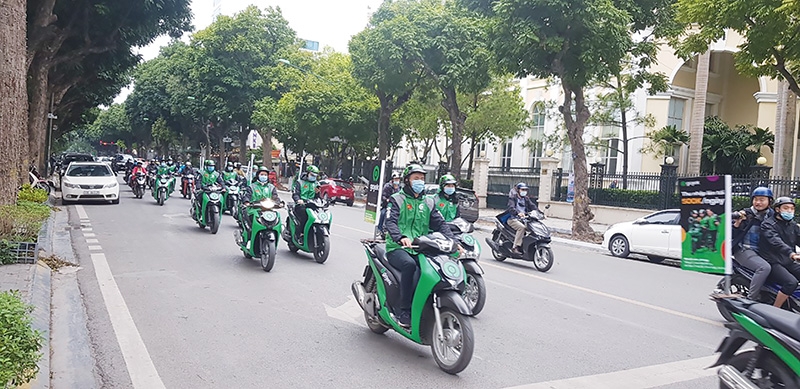 The Gojek and Tokopedia merger is backed by massive names in digital investments, Photo Duc Thanh


Indonesian ride-hailing and payments firm Gojek and e-commerce leader Tokopedia has made a big splash in the market by merging to form multi-billion dollar firm GoTo. Backed by investment giants like Alibaba, Tencent, and Google parent company Alphabet, GoTo is poised to expedite the digital economy in Southeast Asia, including Vietnam.
Specifically, the new group features a wide range of services including ride-hailing, food delivery, e-commerce, logistics, and also financial services.
Gojek Vietnam under GoTo has offered ride-hailing, food delivery, and logistics. To expand its presence in the market, the group will roll out car-sharing and cashless payment services this year. By adding the two new services, Gojek Vietnam is expecting to gain a competitive edge over its rivals in the fast-growing market.
A representative of Gojek Vietnam told VIR that the company has already secured a licence for 4-wheel riding hailing service GoCar in Ho Chi Minh City. The company will be launching GoCar in the next few months, with Hanoi in its sights after Ho Chi Minh City.
After Gojek Vietnam has built a strong foundation there, the company expects to expand to other cities. Meanwhile, cashless payments will also be launched within this year.
Following the GoTo deal, Gojek has more resources and capital to implement expansion plans in Vietnam. According to Ralf Matthaes, managing director of technology-driven market research company Infocus Mekong Research, the key to all online platforms is growing their customer base and offering, thus the new merger should aid in this pursuit.
"Specifically, it will allow its present customer base more services and also erode competitor services, if it can perform well across more new services. For the consumer this is great news, as it should start a price war, at least temporarily, and also force the likes of Grab to up its game in Vietnam," Matthaes added.
The Gojek and Tokopedia merger may provide food for thought for key platforms in Vietnam. It is not only a ride-sharing and food delivery battle but also an e-commerce game as GoTo is combining Gojek's on-demand services and Tokopedia's e-commerce expertise. As Gojek Vietnam is introducing most key services here, there is likelihood that it will add e-commerce into the market at some point in the future.
Commenting on this, Matthaes said that both Lazada and Shopee are rather entrenched in Vietnam, so GoTo may require more time to penetrate the e-commerce space than ride sharing.
Meanwhile, Peh Quan Yao, research analyst of services and payments at Euromonitor International, told VIR that both Gojek and Tokopedia plan to operate separately but leverage each other's complementary strengths. There is scope for an end-to-end e-commerce solution that leverages an existing tried-and-tested platform in Tokopedia, and Gojek's last-mile delivery fleet and digital wallet capabilities.
However, Yao noted that the competitive landscape is unlikely to change much for ride-hailing in Vietnam, given Gojek and Grab's dominant positions. For e-commerce, it is too early to tell. GoTo will be a new entrant with no large-scale operating experience outside of Indonesia. In the near term, challenges like customer and merchant acquisition, optimising delivery and fulfilment operations, and adapting to consumer preferences such as cash-on-delivery and live-streaming need to be addressed to compete with incumbents such as Shopee and Tiki, which have already done well in the market.
According to Euromonitor International, e-commerce made up for just 3 per cent of Vietnam's retail market in 2020, the lowest amount in Southeast Asia. Meanwhile, the country's digital economy is forecast to grow to $52 billion by 2025, an annual 29 per cent increase from 2020, according to a study by Google, Temasek, and Bain & Company.
By Thanh Van, "Merger could lead to "GoTo" app for all", available at: https://www.vir.com.vn/merger-could-lead-to-goto-app-for-all-84641.html (accessed June 11, 2021)